RedSeal Recognized as 2017 Red Herring Top 100 Global Winner
Provider of Award-Winning Network Modeling and Cyber Risk Scoring Platform Honored for Third Consecutive Year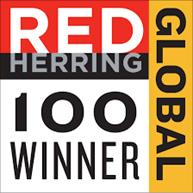 SUNNYVALE, Calif., March 1, 2018 — RedSeal, the leader in network modeling and cyber risk scoring, today announced that it has been recognized by Red Herring for its strong financial performance and technology innovation, and has again been named to the publication's Annual Top 100 Global list. The Top 100 Global list celebrates private companies' innovations and technologies across their respective industries and has become a mark of distinction for identifying promising companies and entrepreneurs.
"We are honored to be recognized by this prestigious publication for the third year in a row," said RedSeal CEO and chairman, Ray Rothrock. "Globally, we're seeing significant demand for RedSeal's platform, which helps organizations increase their resilience to cyber attack. Organizations today need confidence that they can withstand an attack, mitigate damage, and maintain the trust of their constituents.  The RedSeal platform validates and measures security posture before an attack, prioritizes risk areas and speeds investigation and containment – across complex cloud and physical network environments."
Red Herring editors have an excellent track record of predicting the technologies and companies that will change the way we live and work – Facebook, Twitter, Google, Yahoo, Skype, Salesforce.com, YouTube, and eBay are all former Top 100 Global company winners.
"Choosing the companies with the strongest potential was by no means a small feat," said Alex Vieux, publisher and CEO of Red Herring. "After rigorous contemplation and discussion, we narrowed our list down from hundreds of candidates from across the globe to the Top 100 Winners. We believe RedSeal embodies the vision, drive and innovation that define a successful entrepreneurial venture. RedSeal should be proud of its accomplishment."
Red Herring's editorial staff evaluated the companies on both quantitative and qualitative criteria, such as financial performance, technology innovation, management quality, strategy, and market penetration. This assessment of potential is complemented by a review of the track records and standing of startups relative to their peers, allowing Red Herring to see past the "buzz" and make the list a valuable instrument of discovery and advocacy for the most promising new business models from around the world.
About RedSeal
RedSeal's network modeling and risk scoring platform is the foundation for enabling enterprises to be resilient to cyber events across public cloud, private cloud and physical network environments. RedSeal helps customers understand their network from the inside out – providing actionable intelligence, situational awareness and a Digital Resilience Score to help enterprises measure and improve their resilience. Government agencies and Global 2000 companies around the world rely on RedSeal to help them validate their overall security posture, accelerate investigation and improve the productivity of their security and network teams. Founded in 2004, RedSeal is headquartered in Sunnyvale, California. Follow RedSeal on Twitter and LinkedIn.
Contact:
Dean Fisk, Finn Partners
+1 (707) 292-4201
dean.fisk@finnpartners.com
###
https://www.redseal.net/wp-content/uploads/2016/08/RedSeal-logo.png
0
0
RedSeal
https://www.redseal.net/wp-content/uploads/2016/08/RedSeal-logo.png
RedSeal
2018-03-01 00:00:11
2018-03-21 08:54:04
RedSeal Recognized as 2017 Red Herring Top 100 Global Winner