What is Digital Resilience?
Digital resilience is an organization's ability to continue to operate through an impairment, and to stay in business while minimizing customer harm, reputational damage, and financial loss.
Resilient organizations:
Know their entire, as-built networks, including data paths within the network

Set targets, measurements, and goals for defense and response

Employ best practices in change management and prioritize risks and intelligence for better decision-making

Respond rapidly to incidents – while maintaining operational readiness, reducing the risk of losing data, and preventing additional harm
Don't let your company be the next grim headline . . .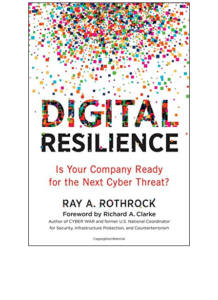 Cybercrime is on the rise — and businesses large and small are at risk. For management, the question is not if you will be targeted, but when. Are you prepared?
Is your enterprise actively monitoring network vulnerabilities and threats, taking steps to understand and contain attacks, enabling continued operation during an incident?
In Digital Resilience: Is Your Company Ready for the Next Cyber Threat, author Ray Rothrock lays bare strategies not just for surviving attacks, but thriving even while under assault.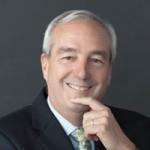 By Ray A. Rothrock
RedSeal CEO and former General Partner, Venrock
Author of CYBERWAR and former U.S. National Coordinator for Security, Infrastructure Protection and Counterterrorism and CEO of Good Harbor
DIGITAL RESILIENCE RESOURCES
Digital Resilience: What You Can Do – Now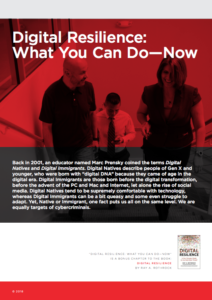 The Bonus Chapter to Digital Resilience by Ray A. Rothrock
To regain control both in feeling and fact requires that we become resilient in our digital lives. Here's how. 
A Recipe for Resilience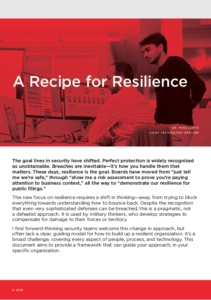 By Dr. Mike Lloyd, RedSeal Chief Technology Officer
This new focus on resilience requires a shift in thinking – this document aims to provide a framework that can guide your approach.
PAST EVENTS FEATURING DIGITAL RESILIENCE
SINET Showcase
A Holistic Approach To Cyber That Will Increase Cyber Posture And Also Enable Your Business

World Affairs Councils of America 2018 National Conference
Digital Resilience with Dina Temple Raston

Computer History Museum
Digital Resilience with Ray Rothrock
Carnegie Science
The Future of Cybersecurity: Winning the War

DIGITAL RESILIENCE IN THE NEWS
Digital Resilience: Book Review by Diana Chapman Walsh
By Diana Chapman Walsh, 12th President of Wellesley College | January 8, 2019
Fascinating, compelling, a beautifully-written page turner that draws the reader in immediately. I learned a whole new vocabulary—new words to convey new concepts in paragraph after paragraph—introduced elegantly and seamlessly so as not to disrupt the flow of the intriguing story you were unfolding.
Cyber Security Hub: How Digitally Resilient Is Your Company?
Cyber Security Hub | November 7, 2018
Unlike the game Whack-a-Mole, where the object is to clobber a mole as it pops its head out of a hole, cyber threats are becoming more targeted and harder to whack, said Ray Rothrock, CEO of RedSeal, and author of the book, Digital Resilience: Is Your Company Ready for the Next Cyber Threat? on Monday's episode 55 of Task Force 7 Radio. Rothrock was the guest of host George Rettas, the president and CEO of Task Force 7 Radio and Task Force 7 Technologies.
Podcast: Why Digital Resilience Is The Answer
Taskforce 7 Radio | November 5, 2018
Ray Rothrock, the CEO of Redseal and Board Member of cyber security incubator Team 8 appears on Episode #55 of Task Force 7 Radio to talk about his new book, "Digital Resilience – Is Your Company Ready for the Next Cyber Threat" and why Digital Resilience is the only way to win the Cyber Security battle we are all engaged in on a daily basis.
Resilient Regulation Can Help End the Tech-Consumer Stalemate
The Hill | October 21, 2018
The reason for the absence of meaningful dialogue and meaningful movement is that the two sides persist in choosing the wrong adjectives. They argue over preemptive federal legislation versus state legislation. They fight over tough legislation versus soft legislation.