What is Digital Resilience?
Digital resilience is an organization's ability to continue to operate through an impairment, and to stay in business while minimizing customer harm, reputational damage, and financial loss.
Resilient organizations:
Know their entire, as-built networks, including data paths within the network

Set targets, measurements, and goals for defense and response

Employ best practices in change management and prioritize risks and intelligence for better decision-making

Respond rapidly to incidents – while maintaining operational readiness, reducing the risk of losing data, and preventing additional harm
Don't let your company be the next grim headline . . .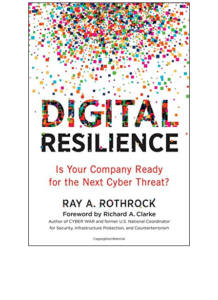 Cybercrime is on the rise — and businesses large and small are at risk. For management, the question is not if you will be targeted, but when. Are you prepared?
Is your enterprise actively monitoring network vulnerabilities and threats, taking steps to understand and contain attacks, enabling continued operation during an incident?
In Digital Resilience: Is Your Company Ready for the Next Cyber Threat, author Ray Rothrock lays bare strategies not just for surviving attacks, but thriving even while under assault.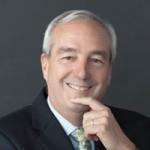 By Ray A. Rothrock
RedSeal CEO and former General Partner, Venrock
Author of CYBERWAR and former U.S. National Coordinator for Security, Infrastructure Protection and Counterterrorism and CEO of Good Harbor
UPCOMING EVENTS FEATURING DIGITAL RESILIENCE
2018 Summit Conference for Directors and Officers

November 29 – 30, 2018
Montage Deer Valley Resort, Park City, Utah


Now in its 18th year, Summit D&O Conference is a world-class directors and officers training and leadership conference dedicated to helping the boards of public, pre-IPO, and private companies improve corporate governance and best practices.
Black Hat USA
Creating Digital Resilience in the Midst of Chaos
Carnegie Science
The Future of Cybersecurity: Winning the War

SEC Cybersecurity Conference
Infrastructure: IoT, Enterprise, Cyber Physical

Cybersecurity at MIT Sloane IC(3) Workshop
Digital Resilience: Preparing to Win.

DIGITAL RESILIENCE IN THE NEWS
Five Tips For Building Digital Resilience Into Your Business Plan
Chief Executive | September 3, 2018
The security advisory firm Herjavec Group reports that cybercrime damages are set to cost businesses $6 trillion annually by 2021, with cybersecurity spending topping $1 trillion from 2017 to 2021. A trillion here, a trillion there … pretty soon you're talking real money — more than enough to acknowledge that managing an organization's cyber risk has truly become a CEO and Board-level responsibility.
It is essential today that enterprises build digital resilience into their business plans—and do so deep and wide.
Sarder TV with Ray Rothrock
Sarder TV | August 24, 2018
Ray Rothrock is a venture capitalist and former partner at Venrock, he has invested primarily in the industries of infosecurity and energy. Rothrock is currently the CEO of RedSeal Inc. and serves on the board of directors of several other companies, as well as the board for the Northern California chapter of NACD.
We sit down for a full video interview to discuss cyber attacks, their impact on business and his journey to success.
The Future of Cyber Security, with Ray Rothrock
Dive With Data Podcast | July 13, 2018
Asha Saxena explores cyber security and the future of Big Data with venture capitalist Ray Rothrock.

In this episode, we'll talk about how Big Data is impacting cyber security and how businesses can overcome the common challenges associated with Big Data, from keeping sensitive information to finding the right talent to process and analyze the data. Without a doubt, Big Data is here to stay, which is why all businesses should focus on learning how to effectively use it.
PM World Book Review: Digital Resilience
PM World Journal | July 2018
The subtitle grasped my attention, "Is your Company Ready for the Next Cyber Threat?" With the speed of change and the lack of international laws to detect and prosecute the criminals, my mind quickly responded, "I doubt it?"
This title addresses the rise in cybercrimes and every business, large and small are at risk. It helps law abiding business people peek inside the minds and tactics of international criminals to understand the threats, identify the weakness and effectively respond, no matter what it takes.