RedSeal helps civilian agencies build more resilient networks.
After the OPM breach in 2015, federal civilian agencies have had to face the pervasiveness of cybersecurity threats and breaches. In response, the OMB developed the Cybersecurity Strategy Implementation Plan (CSIP) for federal civilian agencies.
To meet the objectives, agencies have to overcome the challenge that their networks have grown so large and complex they've outpaced human ability to manage every aspect of them. RedSeal gives you what you need for proactive defense and predictive analysis, so you can:
Create interactive models of entire "as built" networks, including those hosted in the cloud.
Calculate all the ways data—and intruders—can move from one point to any other.
Discover previously unknown devices for a complete network picture.
Prioritize the highest-risk and most exposed vulnerabilities to fix.
Continuously monitor potential attack paths.
Evaluate your actual network build against their policies.
Test and measure network changes before implementing them.
RedSeal is trusted across federal departments.
RedSeal and DHS CDM DEFEND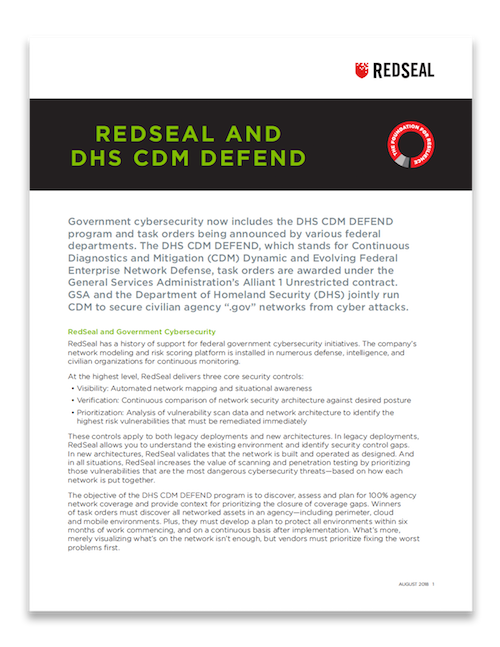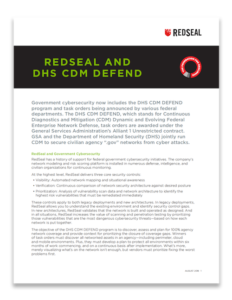 Government cybersecurity now includes the DHS CDM DEFEND program and task orders being announced by various federal departments. The DHS CDM DEFEND, which stands for Continuous Diagnostics and Mitigation (CDM) Dynamic and Evolving Federal Enterprise Network Defense, task orders are awarded under the General Services Administration's Alliant 1 Unrestricted contract. GSA and the Department of Homeland Security (DHS) jointly run CDM to secure civilian agency ".gov" networks from cyber attacks.